Using Revolut abroad – Free withdraw ATM list (guide)
Ostatnia aktualizacja: 21 lipca 2023
Przeczytasz w ciągu 12 minut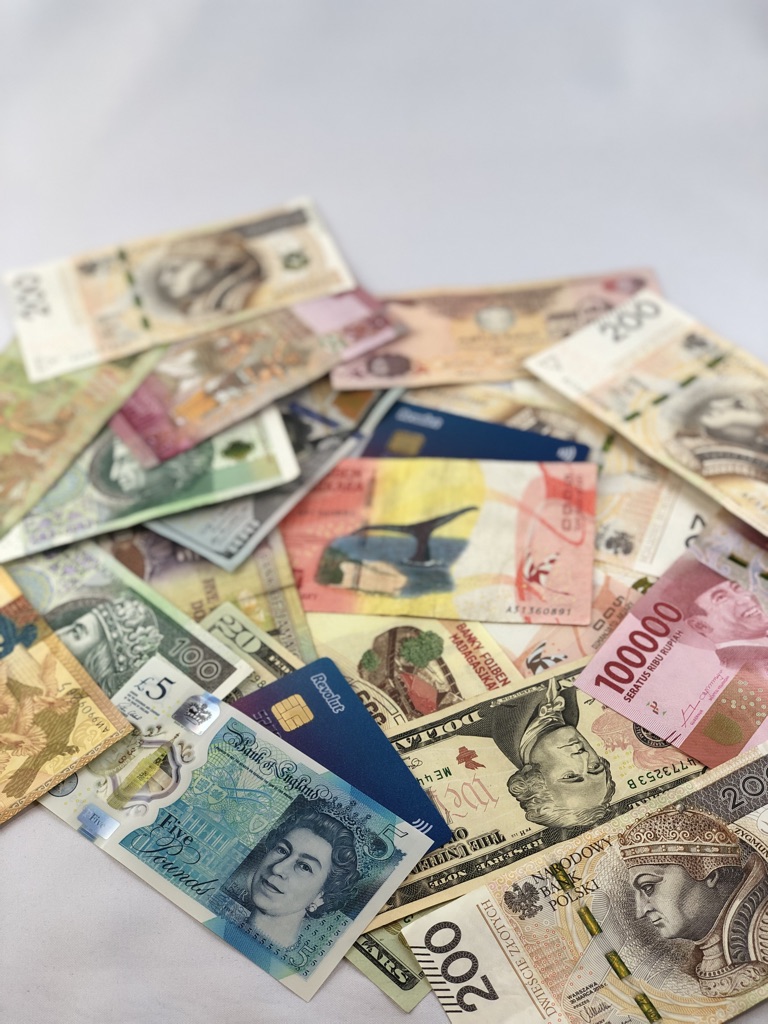 Withdrawing money abroad (Revolut, N26, Monzo, Curve)
Within the scope of this article, I would like to focus on the issue of withdrawing money from ATMs located abroad. The problem is rather universal in nature, as it also affects various credit cards (both standard ones and applications such as N26, Monzo, and Curve). While withdrawing money abroad, we have to take into account the commission charged by our bank, as well as the surcharge payment that may be charged by the ATM operator. In the worst case, we may even pay 2 commissions for withdrawing money; one of them will be charged by the bank and the second one – by the ATM we have decided to use! That is why while being abroad, we should look for ATMs that do not charge the user the so-called surcharge commission. A huge advantage is that the ATM operator has to inform us about the amount of the commission (if any) before allowing us to withdraw money. For example, while withdrawing money within the borders of Thailand, almost all ATMs charge the client (approximately 200 baht). In such a case, every time we withdraw 5000 bahts, 5200 bahts will be deducted from our bank account, with 200 bahts being ATM operator's charge. What is more, our bank may charge us extra for such a service, which will cost us even more money.
Revolut – free withdrawal limit
In the case of the basic service, we can withdraw up to 200 EUR/200 USD/ 200 GPB per month for free. While exceeding the amount in question, 2% fee is charged. The limit mentioned above is reset after a month from the moment of making the first withdrawal. For example, if we decide to withdraw 100 USD on 03.06.2019 and 100 USD on 15.06.2019, we will be able to withdraw more money for free on 03.07.2019, up to the amount of 100 USD, and the next withdrawal of 100 USD can be made on 15.07.2019.
Currency conversion fee
It is worth mentioning that in some cases, currency conversion is connected with the necessity of undertaking a fee. We can convert up to 5000 PLN per month for free, providing that transactions are realized on working days.
Additional fee will be calculated in the following cases:
0,5 % for conversions made during weekends for 24 base currencies
1 % for conversions made during weekends for other currencies
Fee for converting "less liquid" currencies (Russian rubles, Ukrainian hryvnias, and Thai bahts). 1 % on working days and 2 % on weekends
Revolut – abroad ATM withdrawal limit
The basic version of the Revolut card allows for withdrawing up to 800 PLN per month for free. If we decide to exceed that amount, we will be asked to pay a 2% fee. After adding it to the amount to be taken out, withdrawing such currencies as euro, dollar, or pound may turn out to be rather not beneficial (especially above the said limit). The best solution is to utilize the Revolut card to withdraw exotic currencies, such as Brazilian reals, Mexican pesos, Turkish liras, Dubai dirhams, etc. The only thing we should take into account then is the commission charged by the ATM operator. I will illustrate the case on the example of Brazil, where the current inter-bank exchange rate is almost equal to 1:5,26 (British pound vs. Brazilian real ). In the table below, I will compare purchasing a specific amount of currency in a currency exchange bureau to withdrawing it in the country (by using Brandesco ATMs that do not charge users any additional fees).
In this case, while withdrawing BRL 1000 in Brazil, we can save as much as 6,49 GBP…even including 2% fee charged by Revolut! It is worth mentioning once again that the limit of free withdrawals in the case of Revolut is 200 EUR/200 GBP/ 200 USD per month. Up to the said amount, we will not pay anything for withdrawing money, making our savings even greater. Even if such fee is charged, however, we can save up to 6%! Unfortunately, in the case of exotic currencies, currency exchange bureaus charge rather high commissions.
Revolut ATMs- watch out for DCC
DCC is an abbreviation for Dynamic Currency Conversion. It is a service offered by ATMs and payment terminals oriented towards charging the card basing on the currency of card issuer. In the case of Revolut, it means converting the specified amount to pounds, as the issuer of the Revolut card is the British Bank. It means that the conversion rate will be highly unfavorable for us! Therefore, we should opt out of DDC while being offered such an alternative. To do so, we should choose such options as "Debit in 'local Currency'", "Decline conversion", "Without Conversion", "No", etc. Below, there are some examples with the options to be chosen encircled.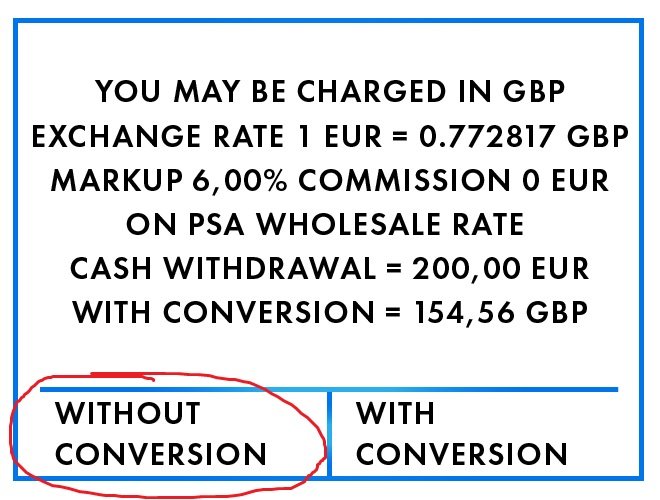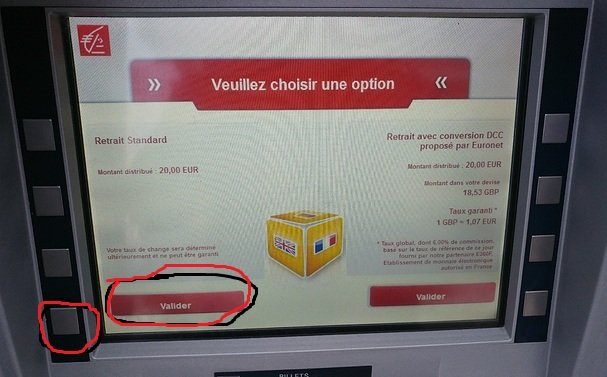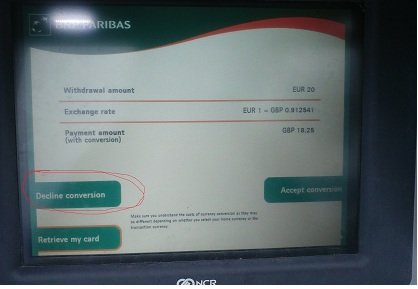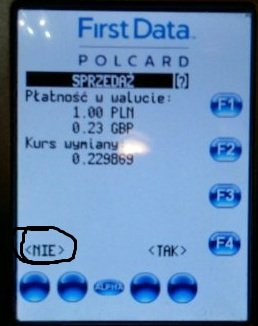 Revolut abroad ATMs (free ones)
While travelling abroad, it is highly recommended to take some money with you and withdraw the rest by using the Revolut card. Below, there is a list of countries where ATMs allowing for free cash withdrawal (no surcharge for Revolut cards) can be found. Said list should also be applicable for N26, Monzo, and Curve cards, as well as for traditional debit cards. Intercharge payment may be dependent on the type of card we have (Visa/Mastercard), as sometimes one card can offer you free withdrawal, whereas while using the other one, you will be charged. The majority of pieces of information provided are the result of browsing online forums and my own experiences. Some of the data may not be up-to-date – we will do our best to update information as soon as possible. If you happen to have some experience when it comes to withdrawing money from ATMs abroad, feel free to post a comment. We highly suggest using the "Ctrl + F" shortcut to find a desired country on our website.
List of free ATMs in the following countries:
While using said ATMs, you should not be charged any additional fee for using the Revolut card. In the case of commission being applicable, the notification below should be presented. In such a case, it is a good idea to try to look for a different ATM in the vicinity.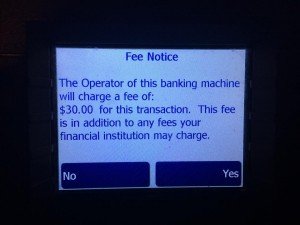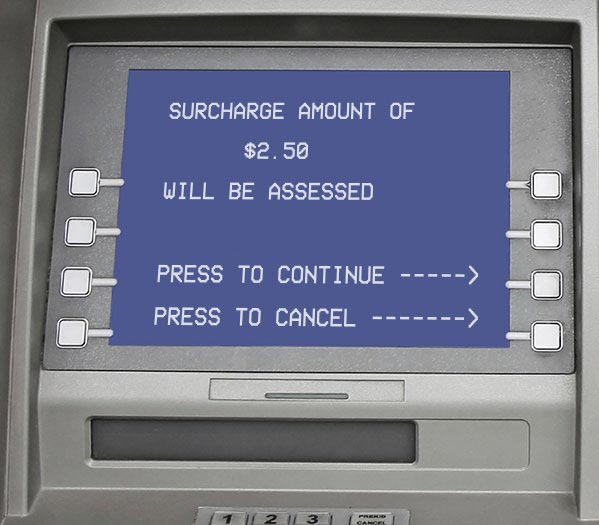 Albania – BKT, Credins Bank lub Societe Generale Should work without commision (Be careful because it is unconfirmed information. Especially in case of Societe there is a risk of commision). Most Cashmachines charges 300-700 LEK. There shouldn't be any issues regarding card acceptance. Moreover many places accept payments in EURO.
Austria – Free withdraws with Revoluta in ATM belonging to Bawag, PSK, Volksbank Tirol AG, Volksbank Salzburg( tested 29.01.2019). Volksbank cashmachines don't charge any commision, but they offer DCC with unfavorable exchange rate, to reject DCC just choose "Abbuchen" on the screen.
Australia – National bank of Australia, rediATM should not charge any extras on money withdraw with Revolut.
Belarus – Devices of Belinvestbank, Idea Banku or Sberbank should work free of additional charges,
Bolivia – BancoFie
Bosnia and Herzegovina – Sberbank, UniCredit Bank, Addiko Bank, Nova Banka.
Bulgaria – DSK Bank, Central Cooperative Bank, B36 United Bulgarian Bank, Fibank, SG Express Bank, Piraeus Bank, Bulgaria Eurobank, Postbank, ProCredit Bank, Unicredit.
Brazil – In this country we recommend Brandesco (tested many times in recent past). You can also try Banco de Brasil, which should also be free with Revolut card.
Canada – no commision in Tangerine and National Bank of Canada.
Chile – Banco Internacional was working without commision, however in recent past many ATM added intercharge fee. Upon the withdraw you should always choose "saving account", there is a limit of single withdraw 200 000 Peso. Avrage intercharge fee is around 4000-6000 peso. During cashless payments in shops or restaurant you should always choose "Credito" or the payment might be declined.
China – ICBC, China Construction Bank, Bank of China. VPN service might be necessary to use Revolut application in China. In past there were issues with card acceptance.
Columbia – Davidiende (Tested at 09.2019). All other ATMs charge a fee.
Croatia – Planet Cash, Unicredit, Bankomat Erste Bank, Splistka Banka, Zagrebačka banka, OTP, Istarska kreditna banka, Privredna banka Zagreb.
Czech Republic – Air Bank in Tesco supermakets, Aliorbank, CSOB, Fio, Komercni Banka, Raiffeisen, Unicredit Bank
Denmark – Nordea Bank
Dominican Republic – Jumbo ATM (Free for VISA cards)
Dubai – Each islamic Bank should work without commission and Emirates NBD.
Egypt – Free ATM's Alex bank, QNB Bank, Bank of Egypt and Credit Agricole. In some cash machines Revolut might be declined. In Egypt there is low debit/credit card acceptance, we recommend traveling with sufficient fund in cash.
Ecuador – Banco International.
Estonia – (information not confirmed) we recomend using local banks (Swedbank, SEB Bank, Luminor Bank, LHV Pank, Danske Bank). ATMs operated by private institution might charge extra fees.
Finland – Most popular Otto ATM should work for free, be aware of DCC.
France – you should be able to withdraw money without commission from cash machines of BNP, Credit Agricole, Societe Generale, La Poste.
Germany – Berliner Volksbank, Baden-Wuttembergische, Hypovereinsbank, Santander, Commerzbank, Postbank, Landesbank Baden-Württemberg.
Great Britain (UK) – Revolut comes from Great Britain and the cards are issued as British. Lloyds is the bank supporting this Fintech. Some ATM might charge a surcharge (for example CashZone).
Greece– Attica Bank should work for free (however we recived information that Attica Bank may charge commision on some cards). Unfortunately, virtually almost all ATMs have commissions when withdrawing funds by Revolut card. One of the lowest commision is in ibanku (2 euro fee).
Hungary– Major banks should not charge commissions when withdrawing cash with Revolut'em (OTP, Unicredit, Raiffeisen itp.). Be aware of Euronet'u (high fee).
Hong Kong – Citibank, HSBC, Hang Seng.
Ireland– most of the ATMs should work for free.
India – State Bank of India, Bank of Baroda, Kasturba
Indonesia – Revolut should work free of charges with CIMB, Maybank, BCA Bank.
Italy– Banca Popolare di Novara (testet 01.2019), Banca Carige, Cariparma, Unicredit.
Israel (Palestine) –Payments in shops etc. are made by swiping the card (you must activate magnetic stripe payment- card -> security -> magnetic strip payment). Some users reported problems with ATMs during the Sabbath. Hapoalim ATMs should not charge an additional commission. Most ATMs charge 5,9-6,9 NIS, which is around 2 euro.
Japan – there are problems with Revolut card acceptance (cash withdrawals from ATMs). 7-Eleven offers free withdrawals for Mastercard and in some cases Visa. In addition, we should withdraw funds for free from ATMs located in post offices.
Jordan – Jordan Kuwait bank offer free withdraws for Mastercard Revolut, Investbank charge 1 JOD, where most ATMs charge around 3-5 JOD.
Kenya – Diamond Trust Bank, Equity Bank
Kosovo – BTK ATMs (with Mastercard)
Lithuania –Unfortunately, we do not have confirmed information about this country. Most ATMs should not charge a surcharge, those that charge it will display the appropriate message.
Latvia –we recommend using ATMs owned by Citadele banka, Luminor bank, SEB Banka, Swedbank. They should work free of charge.
Malta – HSBC Bank (tested 24.06.2019r and BoV (Bank of Valletta), APS Bank, BNF Bank i Lombard Ban
Macedonia – Stopanska Banka do not charge any fee's.
Malaysia – BSN Bank, CIMB Bank, MayBank. (tested 09.2019)
Mexico – All ATMs charges a surcharge of around 25-80 Mexican peso (1,5 -4 Euro). The lowest commission we could find is Ci Banco – 17,5 MXN.
Morocco – Banque Populaire, BMCI, Credit Agricole, BNP Paribas and Al Barid Bank.
Montenegro – Erste Bank ATM's (information confirmed 06.2019), Lovćen Banka (for some of Revolut cards there might be a commission).
Netherlands- ATMs of SNS bank or Yourcash should work for free. Note that almost all card issued in Netherlands are Maestro. There might be a problem with acceptance of Visa/Mastercard in some commercial outlets.
Nigeria – Access bank, UBA i Diamond bank.
Norway – we recomend using DNB ASA, BNP Paribas, Danske Nordea or Santander.
New Zealand – no commision with Westpac ATMs.
Oman – Dhofar i Muscat Bank.
South Africa (Africa) – Capitec.
South Korea – Shinhan Bank, KB Star.
Spain – Unicaja, Cajamar, Deutsche Bank, Liberbank, Telebanko, Bankinter.
Peru – BCP Peru
Poland – Avoid Euronetu! You can use devices owned by PKO BP, PKO SA (PEKOA), Santander, ING, BNP Paribas, Planeta Plus.
Portugal – use Multibanco.
Russia – use Bin Bank, Remember about Revolut extra commission when exchanging this currency (1% or 2 % during the weekend)
Philippines – HSBC
Rumania – BCR Bankm BRD lub BRD-GSG Bank, ING, OPT Bank, CEC Bank.
Serbia – AIK Banka Jubanka, Erste Bank.
Singapur – UOB Bank.
Slovakia – Postova Bank, Unicredit, Tatra Banka, VUB, Prima Bank.
Slovenia – Unicredit
Sri Lanka – Bank Nations Trust, Bank of Ceylon, Sampath Bank.
Switzerland – Większość bankomatów bez prowizji (np. Raiffeisenbank Bitsch).
Thailand – unfortunately, in this country only Citi Bank will not charge a fee for withdrawing cash with Revolut. Other ATMs charge 200 BAHT (4-5 euro). Note that Revolut charges an additional 1% commission when exchanging this currency. Most places accept only cash payment, so be prepare to bring some cash with you.
Taiwan – Cathay Bank i SinoPac.
Turkey – Ziraat Bankası or İş bankası offer free withdraw. be aware of DCC.
United States – PNC Bank, Sun East Credit Union, Wells Fargo, WSFS. Depending on the ATM location, it may or may not charge fees.
Ukraine –Revolut charge 1% fee during the week and 2% on weekends, while exchaning this currency. ATM not charging a surcharge: Lviv Bank, EuroBank, Kredo Bank.
Uruguay – use Banco de la Republica Uruguay..
Vietnam – HSBC, ACB(tylko Visa), MB BAnk, Saigon Commercial Bank, VP Bank.
Qatar – The QAR currency (Qatar Rial) can be bought in the application and kept in separate wallet. The exchange rate is fixed to USD and is around 3.64 QAR per dollar (USD). Majority of ATMs charge a fee of 10-15 QAR. Probalby you can withdraw money for free from QIB.
Mamy nadzieję, że ten artykuł był dla Ciebie pomocny :)
Autor artykułu

Michał Król
Pozostałe publikacje autora
Z wykształcenia finansista. Posiada wieloletnie doświadczenie w instytucjach finansowych i bankach. Czuwa nad merytorycznymi aspektami artykułów. Potrafi w jasny i prosty sposób wyjaśnić nawet zawiłe aspekty świata finansów. Na bieżąco śledzi nowości w świecie Fintechów i podpowiada jak najlepiej wykorzystywać funkcje poszczególnych z nich. Lubi Podróże, zainteresowany jest światem inwestycji i jest pasjonatem Lotnictwa.