How to transfer EUR/USD/GBP from PayPal directly to bank account?
Ostatnia aktualizacja: 21 lipca 2023
Przeczytasz w ciągu 6 minut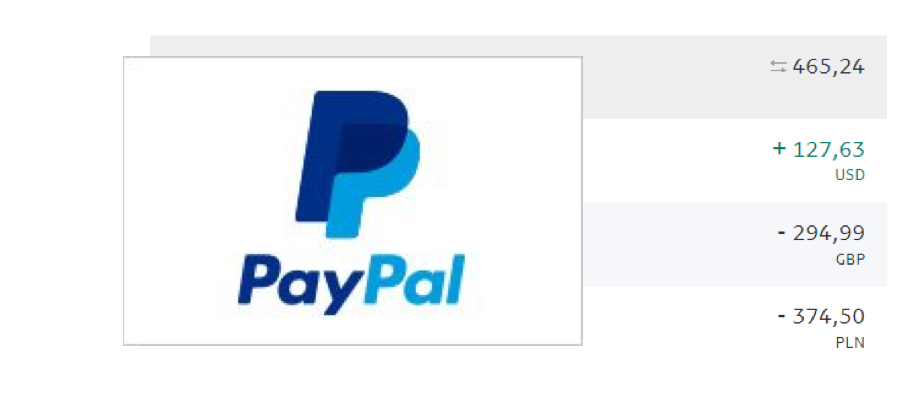 Transfer(withdraw) EUR/USD/GBP from PayPal directly to bank account
Due to its popularity, many people decide to finalize online transactions by using PayPal. The major problem emerges when they decide to make a payment in a foreign currency, as the website offers quite unfavorable conversion rates. A sensible way to avoid that is to use a Revolut card that may be combined with our PayPal account. Thanks to that, we can convert currencies without being charged high fees while at the same time having the guarantee of full transaction safety.
In the case of accepting payments in foreign currencies (EUR/USD/GBP, etc.), there is a problem with withdrawing funds while at the same time avoiding unfavorable conversion rates. "Conversion fee" is one of the major sources of income of the PayPal company. According to the policy of the intermediary in question, we can withdraw money exclusively in the currency of the country we live in. For example, if we live in Germany and have a German bank account, we can only withdraw funds in euro. The only way to withdraw funds in any other currency, such as USD, is having an American bank account (BIC code of an American branch of a given bank). Having a foreign currency account in a German bank is not enough. However, you can avoid all the conversion rate-related problems. You will find more info on that below: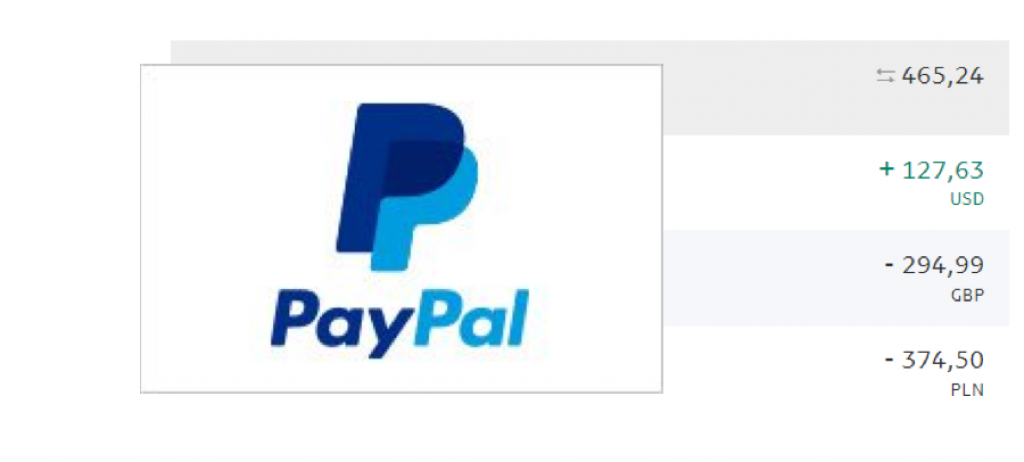 Can money be transferred from PayPal to Revolut
Many users ask how they can transfer money from PayPal to their Revolut account or top up their Revolut account by using PayPal. Unfortunately, topping up account is possible in one scenario only, meaning that we can only top up our PayPal account by using Revolut. When it comes to withdrawing "local currency" stored on our PayPal account to bank account, it is not a problem at all. The process takes up to 1-2 working days. In the case of withdrawing foreign currency, such as dollars, euro, or pounds, you should take advantage of our guidebook to avoid unfavorable currency conversion fees.
How to withdraw American dollars (USD) from the PayPal account?
USD withdrawal without currency conversion: you do not need to create a new PayPal account (the German one should be enough). Remember, to withdraw USD without currency conversion from any PayPal account, you have to have an account in an American bank. To do so, I have opened an USD currency account managed by Transferwise. By opening an account there, you can open a bank account managed by, inter alia, an American or a British bank. You can also top up the account and withdraw the funds if you like. If you do not have a Transferwise account, you can register it here for free. Account management is completely free. The only fee is the conversion-related commission. While withdrawing USD 142, I was required to pay USD 0.75 (approx. 0,5% vs. approx. 3% for PayPal). Additionally, the website charges USD 1.2 for dollar-based bank transfers. After opening the account, I received an American bank number together with a BIC/SWIFT code. Unfortunately, I was unable to add it to my PayPal account due to a reoccurring error. In such a case, you may try to avoid the problem by using the mobile app. The other option is to contact PayPal support and ask its representatives to deal with the problem. While writing a message, do not forget to provide all the transferwise account data and PayPal error notification.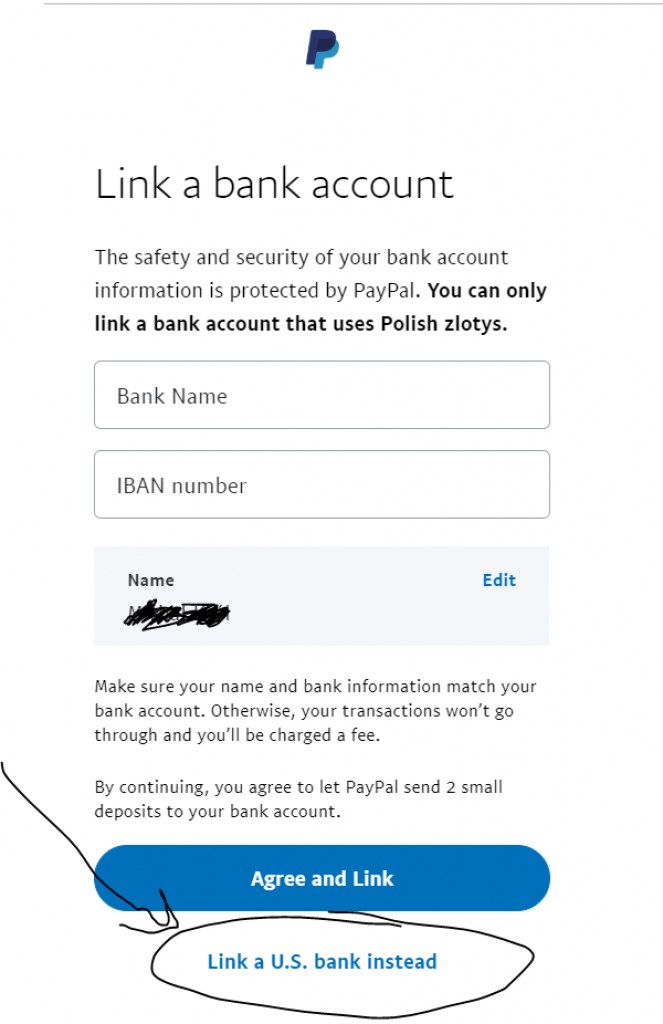 In my case, I received a reply within 12 hours, stating that the error had been fixed and I could now add my "American" account. Below, you can check how to do that. First, select the "add a bank account" option and then click the field presented in the screen below:
In the next window, you have to provide vital Transferwise data in proper fields:
Select account type: "Savings account"
Bank number is the "Bank branch's number (ACH or ABA)"
Bank account is the "Bank account number"
If an error occurs, there are two solutions to fix it:
Download the mobile app and add the account from there
Make a screenshot and send it to PayPal support team. I was able to add a USD account after one "ticket"
Yet another step was to transfer USD from PayPal to my Transferwise account. After logging in to my PayPal account, I selected the "transfer funds" options and then – "transfer funds to the bank account". I selected the USD currency account, specified the amount, and accepted the transfer. After about 5 minutes, I received an e-mail notification stating that the transfer was being processed. After 2 to 3 hours, there was yet another notification that the transfer was accepted and funds would be transferred within approximately one working day. I had to wait about 30 hours for my Transferwise to be topped up. It was worth it becouse i recived total amount (no fees were charged). I sent over USD 140 and the same amount was added to my virtual account. For the specified amount, savings with regard to transfers via PayPal are equal to USD 4. It may not be much, but the satisfaction that you do not need to pay abysmal PayPal fees is immense.

Transfers of currencies (EUR/GBP) from the PayPal account
If you want to transfer EUR, you have to have an account in a German bank and have a German bank account number at your disposal. The same goes for GBP, as you have to have a registered British bank account (and a British bank account number). I was able to make a PayPal account, from which pounds could be transferred. Additionally, I added an American account allowing for withdrawing USD to my Polish PayPal account.
GBP withdrawal: the very first step was to create a PayPal account registered in the UK. I made a new account and then, I had to open a bank account in a British bank. Once again, I used Transferwise. Afterwards, all I had to do was to add the GBP bank account to my PayPal account.
After checking commissions to be paid for converting GBP 1000 into PLN, I specified that conversion and withdrawal fees were equal to GBP 5.4. For comparison, PayPal would charge me as much as PLN 100-120, which would be 4 to 5 times more! By transferring 1000 pounds via Transferwise account you will get about PLN 4700, whereas in the case of PayPal, it will be just PLN 4600. However, after exceeding certain payment limit, PayPal may want to verify your account. In such a case, your factual place of residence may be identified. Therefore, I suggest providing factual data (name, surname, date of birth, etc.) and specifying the address of friends/family living in a given country as the address of residence.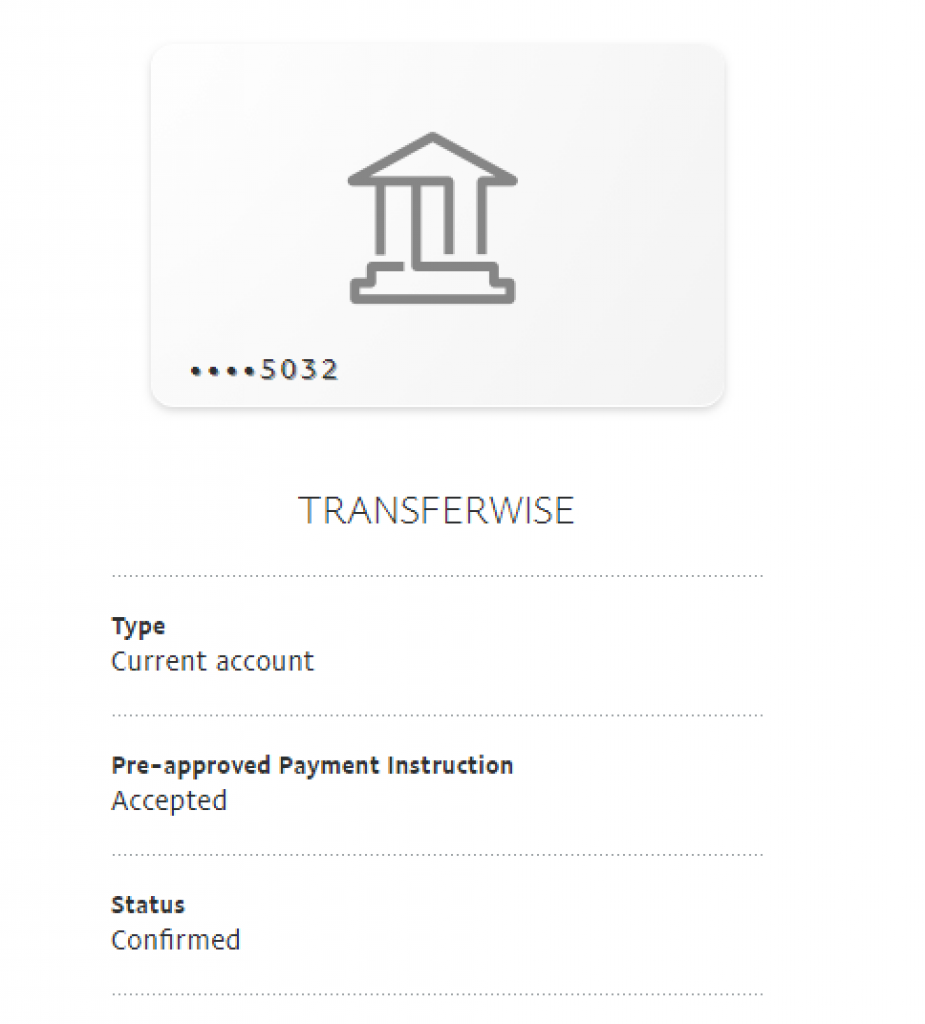 To sum up
It is worth opting for the solution discussed above especially in the case of transferring greater amounts of money or making regular deposits. Unfortunately, the process is neither quick nor comfortable, but it allows for save a lot of money. Conversion rate offered by PayPal is so abysmal that you have all the right in the world to try to avoid it.
Mamy nadzieję, że ten artykuł był dla Ciebie pomocny :)
Autor artykułu

Michał Król
Pozostałe publikacje autora
Z wykształcenia finansista. Posiada wieloletnie doświadczenie w instytucjach finansowych i bankach. Czuwa nad merytorycznymi aspektami artykułów. Potrafi w jasny i prosty sposób wyjaśnić nawet zawiłe aspekty świata finansów. Na bieżąco śledzi nowości w świecie Fintechów i podpowiada jak najlepiej wykorzystywać funkcje poszczególnych z nich. Lubi Podróże, zainteresowany jest światem inwestycji i jest pasjonatem Lotnictwa.